Last Updated on January 14, 2023 by Gino Borghese
• Rocco Borghese Chandeliers has been honoured with a gold award in the Artistic Lighting Design category in London, UK • The 'Energia' Collection will be exhibited at London Design Week, also the launch of a cutting-edge "Vetrissima" Collection of Wish Mirrors.
London, England, United Kingdom – January 11, 2023 /MarketersMEDIA/ —
Rocco Borghese Chandeliers, a world leader in artistic lighting design, was voted winner of the "Artistic Lighting Design Award" in an online poll by a panel of independent lighting designers, architects, and interior designers; for the Energia Collection of sustainable chandeliers.
The Energia Collection, together with the soon-to-be-launched Vetrissimo Collection of Wish mirrors, is set to feature at London Design Week week in Chelsea Harbour from Monday 13th – Friday 17th March 2023.
The Rocco Borghese Energia Collection of sustainable chandeliers evokes the beauty of cosmic energy. With Chandeliers named Energia D'Oro and Energia Cosmica, this collection is an intricate and delicate mix of Murano glass, graduating hues of natural colours, designed to lighten up and portray a dance of energy and movement that's diverse and enhancing.
The Energia Collection of sustainable artistic chandeliers reflects the infinity of space whilst helping to preserve the environment for the next generation.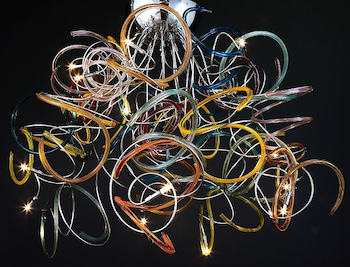 This collection of contemporary artistic chandeliers uses low voltage (12v) miniature G4 LED to minimize energy consumption and costs. These chandelier lights also have a 1000-hour life rating that helps to lower recycling requirements.
For London Design Week, the Rocco Borghese design team created a very special collection of 'Wish Mirrors'. This collection is called the "Vetrissimo" and will be launched to coincide with the London Lighting Design week.
The complete Energia Collection is currently available online on the Rocco Borghese website or at Rocco Borghese showrooms in London. Brochures of this collection can be downloaded here
The latest custom-made Vetrissimo 'Wish Mirrors' collection will be made available during design week. Although currently not displayed on the website they will be added during the launch.
Gino Borghese, Head of Growth for Rocco Borghese, said
"The Energia collection is special because it is beautiful in both its design and its purpose. London Design Week is the ideal platform to showcase the real impact we can make when we are conscious about the products we bring into our homes. The recently announced improvements in nuclear fusion will help to greatly reduce energy prices, but until that time we want to share exciting solutions that allow everyone to enjoy art whilst helping to reduce energy consumption. We are proud that London Design Week considers our glass art design to be a valuable asset to the design world."